Windows 7 Wake on Lan
Windows 7 introduced an extra security requirement with WOL.
Information on the changes can be located here: http://technet.microsoft.com/en-us/library/ee617165(WS.10).aspx
This document assumes you have Wake on Lan/ Wake on Network enabled in Bios.
In order to revert back to the standard method of WOL connection we simply need to make a modification to the Network Card properties.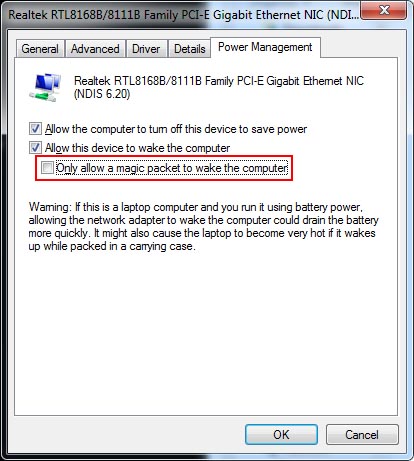 This change allows all types of 'magic packets' to wake the machine, rather then specific ones that were introduced in Windows 7.
Applying this change is fairly simple.
Enter the Control Panel
Select Network and Sharing Center
On the left hand menu select "Change adapter settings"
Right click and select properties on the appropriate network card. (if in doubt, repeat the process for all of them)
Select "Configure"
Select the "Power Management" Tab
Uncheck "Only allow a magic packet to wake the computer"
You should now be able to trigger a "Power On" via the NetSupport Console.
*Note: You must have the client within your list already as a WOL is triggered by MAC address.