Wireless Network Environment options
NetSupport School Wireless Network Environments
Introduction
Netsupport School gives you the ability to optimise the performance across a wireless network.
NetSupport School provides the ability to broadcast to multiple machines simultaneously.
Follow this simple guide for a quick run-down on how to utilise your wireless environment.
Open configuration settings.
In order to access the configuration settings open your Tutor Console and navigate to the following:
·         School > Configuration.
This will open the Settings for Configuration: NetSupport School as shown below.

The above image shows the "Broadcast Show" settings.
In a typical scenario when showing the Tutor screen to the clients, the screen information is sent to each machine in turn.
Enabling Broadcast Show results in the screen information being sent to all machines simultaneously.
This does require the availability of network bandwidth but it will result in a reduction to overall network traffic.
·         Click on settings for further configurations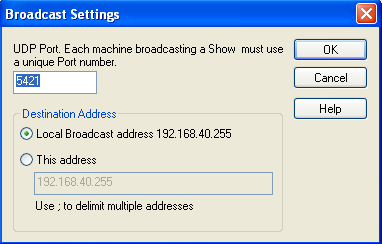 If multiple Tutor machines are attempting to use UDP/Broadcast Show simultaneously on the same subnet, it is recommended to use a unique Port to avoid conflict.
NetSupport Schools default port is 5421.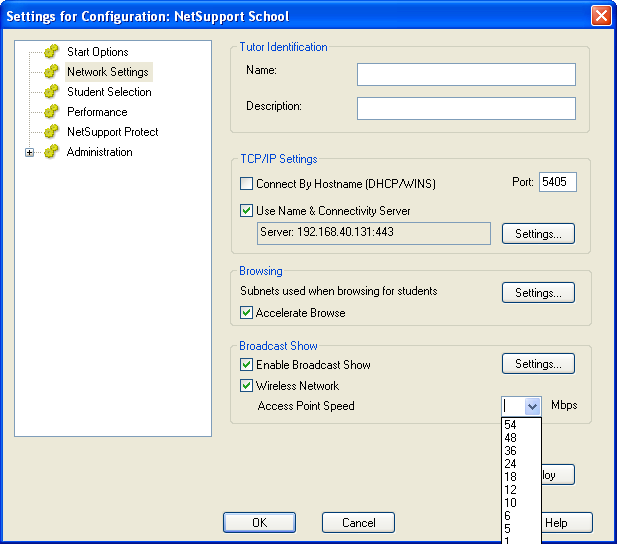 Enabling the "Wireless Network" option allows you to optimise the Broadcast Show performance across the Wireless Network.
You are able to set the Wireless Network Access Point Speed specific to your needs.
It is important to note that these settings are in-line with your Wireless Network configuration. A number of Wireless LAN access points will have 'factory' configured settings. By default these access points may be configured to restrict UDP network traffic to a lower rate.